Temploux brocante 24-25 August 2019
Antiques, collections, jumble sales, fleas or bric-a-brac ?
If it says antique, you may expect a beautiful rare object presented by the seller as an original creation. On the flea market, you will find something else: an old brass lamp, a series of Val St Lambert glasses, medical equipment dating from the early twentieth century, etc.. As regards bric-a-brac, this may be found when clearing the attic , a collection of beer glasses, a rusty bike ... At Temploux you will find everything !
​


From 07:00 to 18:00 :
Collections Sale #34

International Brocante #42

Not forgetting the Festival BD Wallonia and the Rockante !
New !
La Boutique
Already more than 40 years of flea market in Temploux... can you imagine the number of collector objects generated by the event !
The creators of La Boutique went through the pockets and the attics of the old Temploux inhabitants to seek those objects. They are now sold in La Boutique, situated at the foot of the church, near the Info Stand.
You will also find there an exclusivity of Temploux: 40 posters of the 2017 flea market, by Etienne Willem, numbered, virgin of advertisement and printed on high quality paper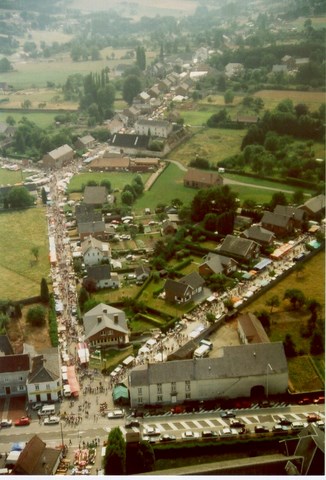 Next...
The next Brocantes:

​2019: 24-25/08
2020: 22-23/08
2021: 21-22/08
2022: 20-21/08
2023: 19-20/08
2024: 24-25/08
2025: 23-24/08
2026: 22-23/08
2027: 21-22/08