Temploux brocante 2021
- Cancelled !
​​Cancellation of the 2021 edition of the Brocante de Temploux

"One rarely regrets having dared, but always regrets not having tried" (unknown author)

We really hoped and worked to be able to organize, next August, the 43rd brocante of our village. But it is with a heavy heart that we have to resign ourselves, for the second time, to cancel our international flea market because of the pandemic that we all have known so far.

Many of you have been able to read about the new measures to be settled.

There were three options available to us, at least in the current state of information available:

1) By positioning ourselves as markets and flea markets, the measures that are currently imposed cannot be applied to our event.

It would be, for example, very complicated to enforce the 1.5 m distance to all visitors and to allow them to stay only half an hour on the site. Moreover, how could such a control be carried out on a 6 km circuit in the heart of a village where the entry points (roads but also fields) are potentially very numerous.

Moreover, the consumption of drinks and food on site is currently not allowed.

Finally, a one-way traffic system for visitors is difficult to settle and to control. Under these conditions, it is impossible to organize the Brocante de Temploux on this basis knowing that, each year, we have a minimum of 50.000 visitors per day with a maximum peak of 25.000 visitors at the same time.

2) From August 13th, if the conditions of the pandemic are met, it would be possible to organize large-scale events (festivals - mass events) with more than 5,000 people by means of the "Coronapass" control, i.e. a proof of vaccination or a negative test.

Organizing such a control, in addition to its important cost, is impossible, because of the lie of the place and would cause enormous disagreements to all the local residents. It would also be difficult to implement on the basis of a Belgian "Coronapass" since we have 20% of foreign visitors. For these visitors, and for those who do not have a "Coronapass", a quick test on the spot could be considered, but this is also cumbersome, costly and difficult to implement. This would increase the number of queues at the entrances to the site, increase the irritation of the visitors and cause a situation that would be difficult to manage for both the organizers and the police.

3) Finally, considering "lighter" versions of the flea market (fewer dealers, various closed sites, etc.), in addition to the difficulty of "selecting" among the dealers due to the smaller capacity of the sites, would not allow us to modify or better manage the flow of visitors. Indeed, we cannot envisage an operation on reservation for the visitors who, let us recall it, are accommodated free.

Such an adaptation would also risk jeopardizing the quality and the fame of our event, and thus negatively impact our secondhand dealers.

In conclusion, our committee believes that next August, the conditions of organization will not allow us to consider a quality flea market and in full safety for our visitors and volunteers.

After analyzing the situation, our committee has resigned itself, once again, to cancel. We will do everything to come back stronger in 2022 with this 43rd edition of the flea market that we wish to be resplendent.
With hope and impatience, we thank all the volunteers as well as the brocanteurs who had already booked their place, and we are thankful for their support.

We also have a thought to our suppliers who will once again suffer from this cancellation.

Let's keep hope and let's meet again on 20th and 21st August 2022 for this 43rd edition !

The Committee of The Brocante de Temploux.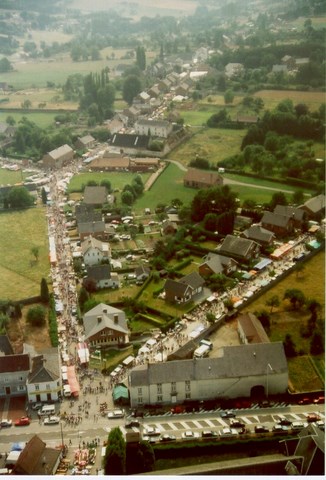 Next...
The next Brocantes:

2022: 20-21/08
2023: 19-20/08
2024: 24-25/08
2025: 23-24/08
2026: 22-23/08
2027: 21-22/08